An international household name for its traditional method sparkling wines, with a presence in several wine regions worldwide, Domaine Chandon moved to Ningxia in 2011. It now produces wines in a range of styles and formats, including a red sparkling version.
With expert guidance from Australia's Dr Tony Jordan, LVMH spent two years visiting all the major wine regions in China before deciding to plant vines and build a winery in Ningxia, "because it offered the best policies for us to move here", according to viticulturist Leo Liu.  Domaine Chandon now has nearly 30 hectares under vine with a focus, unsurprisingly, on Chardonnay and Pinot noir. The vines are planted from East-West and not North-South for more balanced acidities and organic fertilisers are used, although the winery is not certified organic but ISO 14000. During the winter months, when the vines are protected from cold spells that can plummet to extremes of -20°C, sensors are used to monitor underground temperatures. Domaine Chandon has been making wines from its own grapes since 2014 and also buys grapes such as Syrah and Marselan under contract for its red sparkling wines. The fruit is picked by hand and the wines are made using the same extraction rate as for Champagne.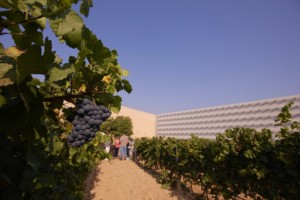 Perhaps frustratingly, Domaine Chandon's Ningxia sparkling wines are not marketed outside the country. The intention here is to cater to Chinese tastes, hence the release of its red sparkling version in September 2019. "We think a red sparkling wine will appeal more to the Chinese than the white", explained Leo Liu. "The label has traditional Chinese characters meaning auspicious and is aimed at celebrations". The winery also released small format 187 ml bottles in September 2018 under the Me brand, meaning little secret and sweetness. It retails for under 60 yuan and is designed to open up what remains a niche market in China. "Sparkling wines are a summer drink, favoured by young people, particularly in the South of China and Shanghai", said Leo Liu. But as China's taste for wine grows, the chances are that the market for sparkling wine will flourish.
Sharon Nagel